Music to my ears: Musical devices and nostalgia
Tech Reviewer recently published a short article with a video on kids reacting to and learning how to use a Walkman on its 35th anniversary.
The video is both hilarious and sad for the same reason—the kids in the video and kids in general don't realise how good they've got it when it comes to technology. In this article, the author pointed out that these kids' own kids will eventually react the same way to iPhones.
Despite these kids' reactions to the Walkman, another musical device is making its way back into fashion or at least it has for one day in Wollongong—records and the turntable.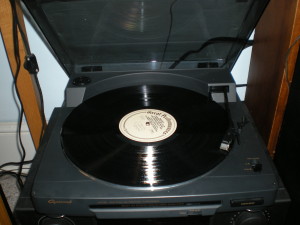 Wollongong and I'm sure many other cities around the world celebrated Record Store Day last Saturday. Record Store Day has been celebrated on the third Saturday in April since 2008 to celebrate the sale of physical music products, which is rare due to our society living in the digital age. Wollongong record store, Music Farmers celebrated the day by selling exclusive vinyl releases as well as other records.
Interestingly, vinyl sales have increased in Australia by 77 percent whereas in contrast, CD sales have plummeted by 25 percent.
The owner of Music Farmers, Jeb Taylor said to the Illawarra Mercury that everything is heading digital and that people are losing the experience of buying records and other music in a store and that young people may not have ever experienced that.
He does make a good point. I buy all my music off iTunes and I only ever buy a CD if it's an album by one of my favourite singers. I'm sure many of my friends will say they do the same thing, even my mother buys music mostly off iTunes now. Everything and I mean everything from buying music and movies, to paying bills, shopping and even admitting yourself into hospital for a procedure is heading digital. Does this mean that the record store and music store shopping experience as well as records, CDs and DVDs themselves will eventually become extinct?
Considering the fact that there is an international Record Store Day, that the Walkman is being celebrated 35 years on from emerging on the market and that record and music stores still exist and record sales have increased, I don't think so.
While we are heading towards a completely digital world, the ironic thing is that despite the freedoms and easily availability of digital music, the reason why record and music stores are still in business and why records, walkmans and CDs still exist is because people miss the physical product and the experience of being in a store, because digital music takes those products and experiences away from them.
As long as we keep feeling nostalgic, keep celebrating the music products and devices and embrace the needs and desires for the proper in-store and physical product experiences, records, CDs, turntables, Walkmans and CD players will never become extinct.
This article was originally published on Tech Reviewer on 26 April 2014 and can be found here.